Olinga Foundation Support to World Reader (All Children Reading)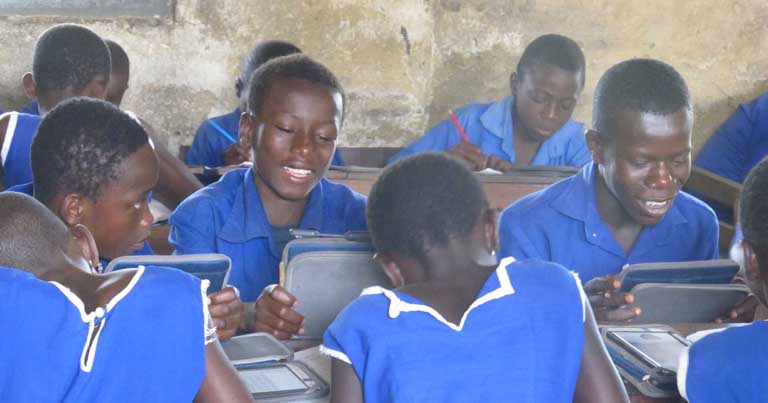 E-reader thrills Pupils.
Pupils and teachers benefiting from World reader's "All Children Reading" project within the Suhum municipality for the past five months have been experiencing a more interesting and participatory lesson so far as reading is concerned in their curricular activities.
The World Vision, USAID and AusAid initiative which was introduced in some selected schools to improve on the literacy skills of children from lower primary through the use of kindles has made a remarkable impression on teachers, pupils and parents.
One school that shared the successes it had chalked from e-reader was Asuboi Methodist Primary. The school has been in existence since 1905 with a population of 260 pupils and 8 teachers (Kindergarten to Primary 6) is in a small town called Asuboi on the outskirts of Suhum in the Eastern Region with its residents mainly traders and farmers.
An unannounced visit to the school about the impact of e-reader brought so much satisfaction during a classroom observation and interviews with both teachers and pupils from lower primary (P1 to P3).
It was noteworthy to know that the outstanding impact did not only affect the school but had also transcended unto parents who were enthused to see their children so attached to their kindles in the evenings instead of engaging their usual roaming about.
The program since its beginning through the use of the electronic device (kindle) has fascinated pupils immensely by exposing rural kids to the technology world. Yaa Akyaa Bondzie, a parent who came to seek permission for the absent of her sick daughter in an interview referred how her child after her evening chores stayed on her kindle before finally retiring to bed. She said
"Because I did not go to school, I want her to learn and be somebody in future like a newscaster so when I see her with that thing I feel proud."
Classroom Observation.
Figure 1: Mr. Obuobi instructing a reading lesson with his kindle device.
During a classroom observation in primary 1 where comprehension was being taught with the kindles, the teacher prepared the pupil and arranged them by placing brilliant ones who are good at handling the kindle amongst the average ones.
He then starts by asking the children to give him all vowel letters and then proceeds to form two, three and four letter words for them to sound out as a warm-up exercise after which children begin to form sentences from these words. Finally, each child is
made to read a passage from their kindles as well as describing the pictures they see.
Thompson Obuobi the P1 teacher observed had been teaching in the school for the past four years mentioned the project was really helping the children especially girls to read well. Surprisingly, for him, pupils who were unable to read were even catching up and always eager to read a passage during comprehension lessons.
"The recent update of Akuapem-Twi books unto the kindle is an additional benefit and makes it easy for children to identify words and read without any difficulty since it is their mother-tongue"
he said.
According to him, even though most parents were illiterates, they were very much interested in seeing their children bring the kindles home and read after their chores. He disclosed as a result of that a lot of parents had purchased school bags instead of polythene bags for their wards to enable them protect their kindles from rain and thieves.
An interview with some pupils who looked very elated with their kindles revealed they were very much comfortable using it. They recalled using the kindles twice a week in the mornings when they have their reading lessons. According to them they enjoyed and could concentrate because was before first break.
Gyato Peace, a 10 year old P1 pupil said
" live with my grand-mother and the day I took it home She was happy informing all our neighbors and told me to learn very hard with it."
She continued that She even teaches her younger brother how to use it whenever She visited him and her mother who lived in a neighboring town. Stanley Tetteh also stated that his mother always helped him at home to use the kindle to read. However, because he had few story books to read, the e-reader had been of a great help to him. He stated,
"My friends that I play football with always tell me they want to leave their school and come to my school so that they can also get one to read."
Figure 2: Peace and Stanley reading a passage from their kindles.
During a chit-chat with Ms. Rosemond Eva Aboagye, who has been heading the school for the past three years, She revealed that since the introduction of e-reader in her school, all truants have been punctual. And also, children stay in their classrooms even when their teachers are not present.
For her, the program has affected her school greatly because most children who could not read were now able to read without any difficulty. In addition, shy pupils who were inactive in class had become more active and participate whenever there is a reading lesson. And so She made sure children always go home with the battery of their kindles fully charged since most of them resided in homes without electricity.
The head teacher who applauded World reader's initiative was of the view that without the readily available Teaching and learning materials such as text books, syllabus and reading books, teachers resorted to the device in preparing their lesson notes and teaching.
She commended the program saying it was a very significant platform for children to build up their reading capabilities. Her experience with e-reader was nothing different from other program schools who confirmed children's reading had improved.
On the other hand, the only fear some head teachers expressed was the tendency of their schools having to deal with over enrollment the next academic year due to parents "mad rush" to seek admission for their wards all because of the developmental progress e-reader is churning in their respective schools.